Why deliberate creativity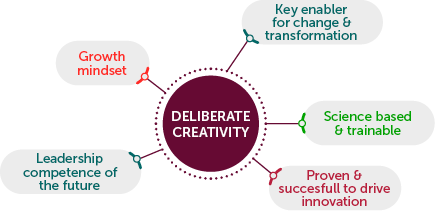 We believe in the power of:
creativity to build a growth mindset
creative leadership as a competence of the future
creative collaboration to enable change and transformation
creative problem solving to drive innovation
The key is to be deliberate about it.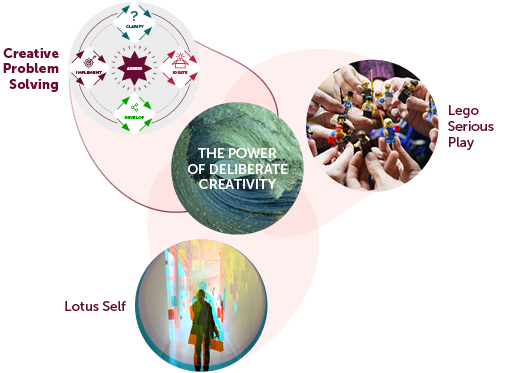 Creative Problem Solving contains, in its basic form, four stages: "clarify, ideate, develop & implement". Depending on the issue at hand this process is repeatedly applied or particular phases are analysed in depth. The CPS process is considered to be a guide rather than a goal. Each individual step is broken down in creative – or divergent – thinking and critical – or convergent thinking, which means first generating a myriad of options without judging them and evaluating them in a next step.  Used as a process for problem solving, CPS shapes a common language and is based on the principle of participative collaboration.
In addition to its methodological aspect, CPS also contains a personal facet: research shows that each one of us has a natural thinking preference for one or a combination of stages when tackling a challenge. Along with the explanation and practicing of the CPS process the certified Yeast facilitators make use of a tool that helps reveal people's personal preference, which contributes to awareness and development.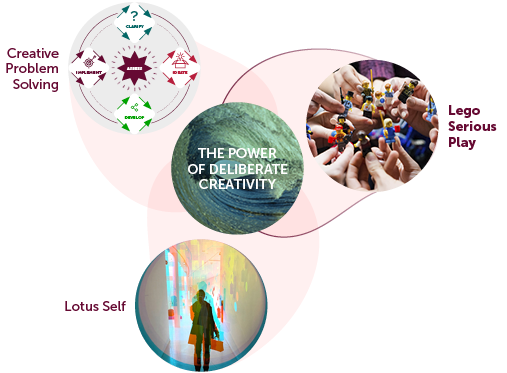 The LEGO® SERIOUS PLAY® Methodology is a facilitated meeting, communication and problem-solving process in which participants are led through a series of questions, probing deeper and deeper into the subject. Each participant builds his or her own model in response to the facilitator´s questions. These 3D models serve as a basis for group discussion, knowledge sharing, problem solving and decision making. 
The methodology  is based on research which shows that this kind of hands-on, minds-on learning produces a deeper, more meaningful understanding of the world and its possibilities.It deepens the reflection process and supports an effective dialogue.
The certified Yeast facilitators use this methodology to align teams on their vision and identify strategic initiatives to realise that vision.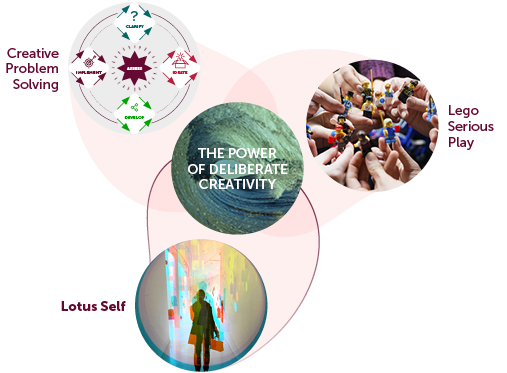 As accredited Lotus Self facilitators of transformation, Yeast facilitators introduce practices to create sustainable shifts in behaviors which lead to desired results through  increased (self-) awareness, personal development and moments of truth which empowers leaders to continue the transformational journey.
Lotus Self draws on ancient wisdom, modern scientific knowledge, and business practice and is designed to help you achieve shifts in your personal and business challenges focusing on creative leadership, presence, intention setting, and resilience.